Hi, I´m Maria!
A Little More of Me
I am a couple and wedding photographer who strives for capturing lovestories in the whole world.
I love traveling, have a passion for road trips, cannot miss any good coffee shop and love pretty much anything that takes me outside.
It says: Go, where you feel most alive. And so I do. I feel most alive when I am traveling. I truly love to see the world, explore new countries, meet people from other cultures and enjoy delicious food (as everyone, for sue :)
Wedding photography and traveling let my heart beat faster. So if you feel the same way and plan to merry at a beautiful place on earth, please get in touch with me. I would love, to get to know your lovestory!
I aim to create a unique style during every shoot that matches each client's individuality.
Modern, laid back photography for non-traditional weddings and couples in love.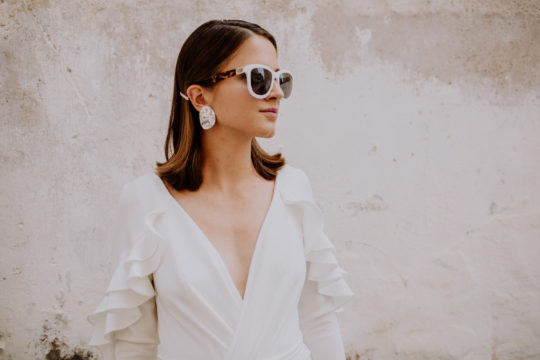 Featured on Frieda Therés
Sonnenbrille für Bräute
Richtungsweisende Designimpulse kommen in dieser Saison von Labels wie Balenciaga, die mit neuen Formen für frischen Wind sorgen. Besonders hot sind dabei schmale, futuristisch anmutende Modelle, inspiriert vom Look der klassischen Skibrillen.